Your baby's safety is important to you, and it's a mother's concern that her baby is well monitored 24 hours a day, seven days a week—no wonder a baby security monitor is trenched in her mind.
The breakdown here is in no special order, but my selections here are important to be aware of when deciding to buy your baby monitor.
Features
Know your baby monitor's features. Before purchasing or using a baby monitor, be sure you know its features. Different monitors offer different features, so it's important to understand what each one does to determine if it will meet your needs. Some features to look for include infrared night vision, two-way communication, and room temperature sensors.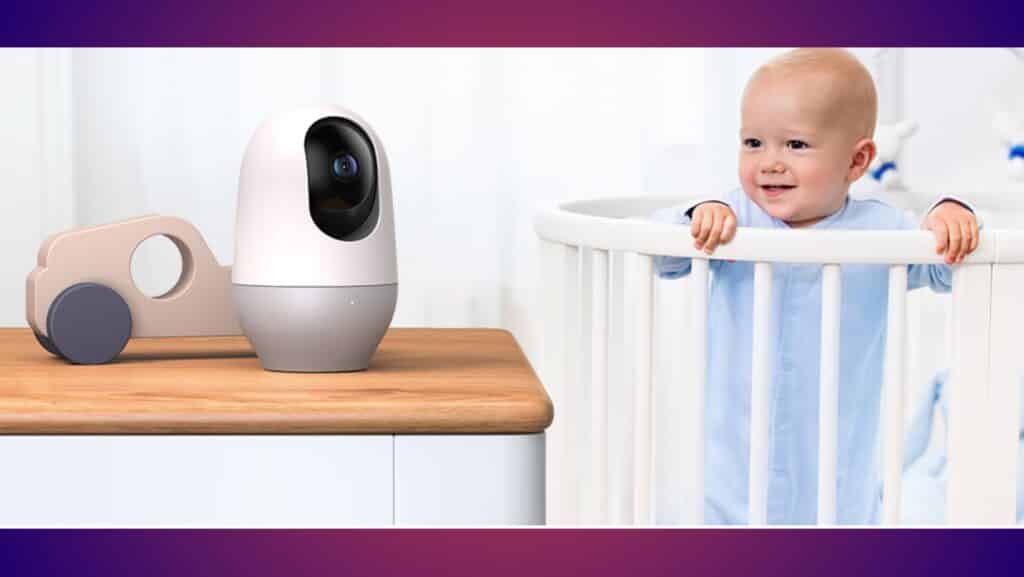 Test the monitor in your home. Most baby monitors come with a testing or demonstration option. Be sure to test the monitor in your home, in the room where your baby will be sleeping, ensuring that you are getting a clear signal.
Position the monitor in the correct location. Place the baby monitor in a location where it will pick up the best signal and provide the best view of your baby. If you're using an audio monitor, place it near the baby's crib. If you're using a video monitor, place it across the room so you can see your baby's entire crib.
Battery
Be sure to keep the monitor's batteries charged, especially if you plan to use it frequently. Lithium batteries tend to last the longest; while I mention Lithium batteries, many other good batteries brands are on the market.
Location
Place the monitor in a central location in your home to give you the best range and minimize the likelihood of losing connection. Also, keep the monitor's volume at a reasonable level. In this way, you can always hear your baby cry, but you don't want the monitor to be so loud that it disturbs other members of your household.
Try to keep the monitor's transmitting range clear. Don't place it near metal objects or cordless phones, interfering with the signal range. Also important, always keep your baby monitor's firmware (software) up to date to ensure that you're having the benefit of all of the up-to-date features and enhancements released for your baby security monitor.
Technology
Parents should have the best technology at their fingertips to keep their children safe, and in today's modernized world, technology is available. You can find an expansive range of baby monitors sold on Amazon, and Walmart, high-quality baby monitors that give parents peace of mind, whether they're at home or out and about. With that wide selection of models, parents can find the perfect monitor for their needs and budget.
The range of baby monitors built today will have audio and video, allowing you to watch your child from anywhere in the house or while working or on the road.
Writer's Choice
Today, my selection is the 360 Motion Tracking Baby Monitor developed by Nooie, specializing in "intuitive technology that cares for families and loved ones. Nooie was created from love, with love, and to love." Their mission is to simplify and refine people's life with Warm Technology to make smart living more accessible to all.
The Nooie company is formed with parents that understand that life can be demanding and messy, and that is why Nooie is empowering you with the benefits of Warm Tech, which gives the owner more control over their life. Also, the company makes products that look nice, work well, and that save you money.
The Nooie monitor comes with a Camera, WiFi, Pet Camera Indoor. Also, it is a 1080P Home Security Camera, Motion Tracking, IR Night Vision, Works with Alexa, Two-Way Audio, Motion & Sound Detection, and has a 32GB SD Card. It is a 360-degree Wireless IP Baby Camera. A verified buyer rates it as the best baby monitor.
Nooie Baby Monitor with Camera, WiFi Pet Camera Indoor, 360-degree Wireless IP Baby Camera, 1080P Home Security Camera, Motion Tracking, IR Night Vision, Works with Alexa, Two-Way Audio, Motion & Sound Detection, 32GB SD Card
About this baby monitor item
✪ 360 °MOTION TRACKING: Automatically senses and tracks the action in your baby room in full 360°. Nooie Cam 360 has a 101° field of view — rotates 355° horizontally and 94° vertically. Pan and tilt easily with the Nooie App. Never miss a thing about your baby. See moment by moment on the video baby monitor.
✪ 1080P HD + SUPERIOR NIGHT VISION: 1080P HD baby monitor camera lens and two 940nm infrared LEDs of Nooie baby camera make sure that you can always see your baby clearly day or night. Night vision up to 32ft (10m) in pitch-black. Optional status light.
✪ STYLISH, INTUITIVE, EASY SET UP: The camera and App are easy to install, simple to control, and a breeze to maintain. You download the Nooie app from App Store or Google Play. The monitor also works with Alexa and Google Home. Compatible with 2.4GHz WiFi network.
It has MOTION + SOUND DETECTION, TWO-WAY AUDIO: Live streaming 24/7 with real-time motion and sound alerts. Listen and talk to family or pets with a built-in anti-noise mic and speaker. Keep your baby close no matter where you go.
✪ SECURE DATA & DATA STORAGE: Continuous recording with a 4-128GB Micro SD card.
There is no subscription service; sign up via Nooie App, and worry-free because you get Multiple security protocols to keep your data and privacy secure.
Other Top Brands
eufy SECURITY Video Baby-Monitor, with Camera and Audio, 720p HD Resolution, Night Vision, 5in Display, 110deg Wide-Angle Lens Included, Lullaby Player, Ideal for New Moms. There is also a nice baby monitor Motorola makes. The Motorola MBP845CONNECT 5″ baby video monitor with WiFi Viewing, Digital Zoom, Two-Way Audio, and Room Temperature Display
Worth Considering What Babylist Parents Wants
Hostry
A baby monitor, also known as a baby alarm, is a radio system used to listen to sounds made by an infant remotely. An audio monitor consists of a transmitter unit, equipped with a microphone, placed near the child. It transmits sounds by radio waves to a receiver unit with a speaker carried by, or near to, the person caring for the infant. Some baby monitors provide two-way communication, allowing the parent to speak back to the baby (parent talk-back). Some allow music to be played to the child. A monitor with a video camera and receiver is often called a baby cam.
One of the primary uses of baby monitors is to allow attendants to hear when an infant wakes while out of immediate hearing distance of the infant. Mothers, fathers, brothers, sisters, babysitters can often hear infants and young children over a baby monitor in crib talk they talk to themselves. Although commonly used, there is no evidence that these monitors prevent SIDS, and many doctors believe they provide a false sense of security.
Smartphone
Smartphone apps allow users to monitor a camera-equipped device, such as another smartphone or a tablet. Alternatively, WiFi or Bluetooth can link a camera to a dedicated app on a smartphone or tablet. That means a smart device doesn't need to be left in the baby's room.
Questions:
WHAT IS A GOOD BABY MONITOR TO BUY? They all do the job
IS IT WORTH BUYING A BABY MONITOR? yes
WHEN SHOULD YOU START USING A BABY MONITOR? Once your baby is left alone
DOES A 2-YEAR-OLD NEED A BABY MONITOR? All ages